By Billy Ulmer
Last week I met with some researchers who were studying the tiny house movement from an academic perspective. They asked me two questions that still stick in my mind a few days later:
What's changed in the last three years of the tiny house movement?
What's going to happen next?
I've thought about both questions so much since then that it's worth taking a moment, first, to understand what's happened over the last few years, and then I'll share some things that we at PAD have been thinking about the future.
What's Changed?
When I started working with PAD Tiny Houses three years ago, people often asked me, "What's a tiny house?" The idea was still pretty obscure. Around a year later, as I started working on Life in a Tiny House, an ebook of in-depth stories about people who built and live in tiny homes, that began to shift. People started telling me, "Oh, I love tiny houses! I just found out about them."
I released Life in a Tiny House at this time last year because there weren't many places where you could find well-told, relatable stories about the journeys people go on when they build and live in tiny homes. And I actually think that's still true. But what changed dramatically was that all of a sudden, photos and short snippets about tiny house living started showing up everywhere.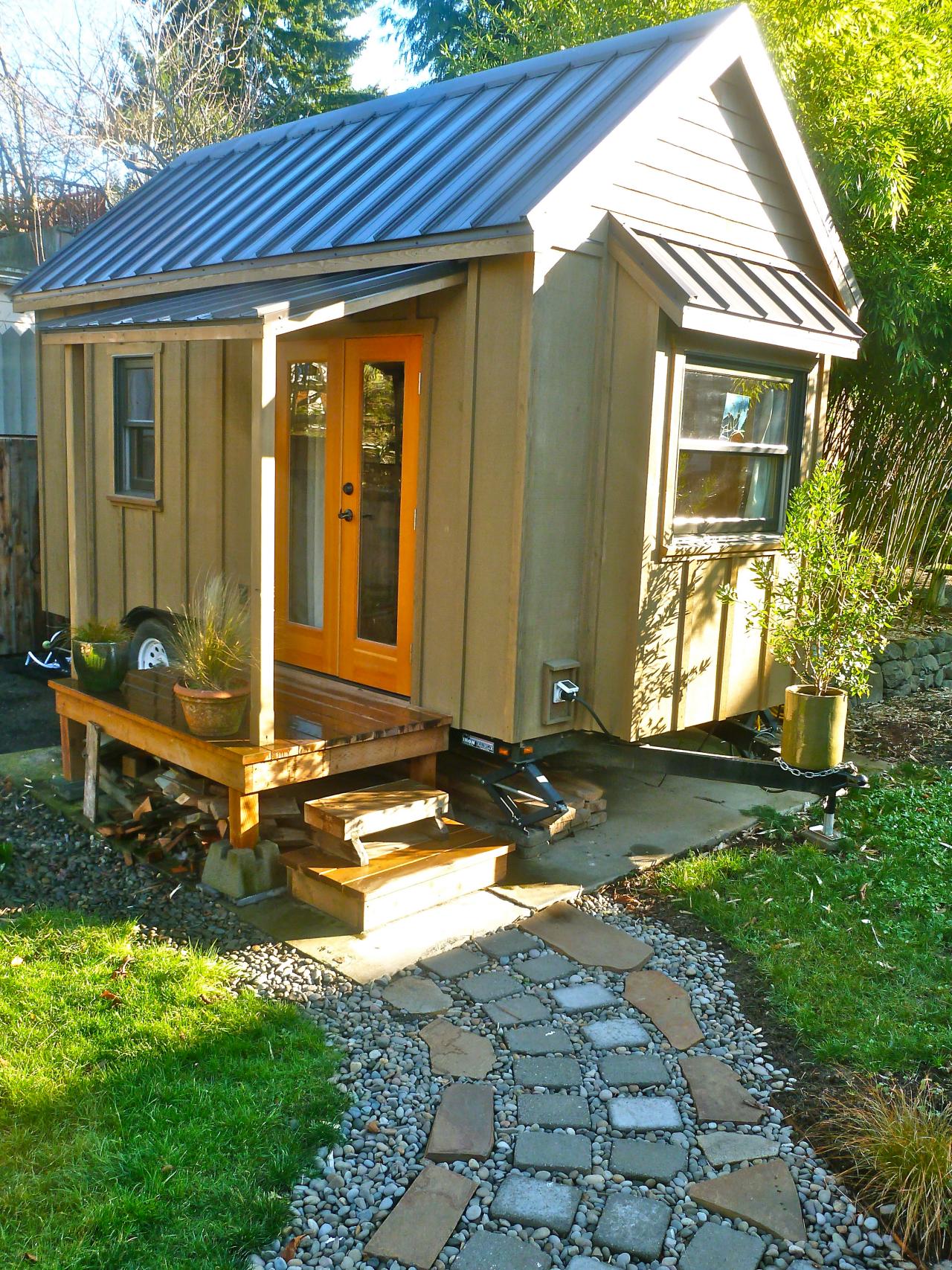 Dee's book The Big Tiny came out in April of 2014, and Ryan Mitchell's book Tiny House Living just a couple months later. Tiny House Nation hit television, followed closely by Tiny House Hunters and Tiny House Hunting. Tiny houses became something you could discover easily, by accident. I admit that I was surprised when I first saw Tiny House Hunters on HGTV, and a woman's search for a tiny house on wheels was treated with just as much respect as the couples on regular House Hunters seeking a two-bedroom house in the suburbs. The media was actually taking it seriously, which is a big factor in whether people take it seriously themselves. Nobody wants to be a punchline. What the media says matters, and they've been saying it's pretty okay.
Google Trends is a fun tool that lets you explore the historical popularity of a google search term. Here's how searches for "tiny house" have changed in the last few years:
So, great, right? You can tell your mom that tiny houses aren't weird because they're on TV. They're everywhere.  Right? Well, kind of.  Small home architect and advocate Sarah Susanka was interviewed about this subject recently, and pointed out that the media attention is vastly outpacing the actual number of tiny houses out in the world:
"We get the sense that (tiny homes) are everywhere. They're not. Very, very few people would actually consider living in one. We have this impression that they're ubiquitous; they're not. (But) the number of companies and awareness (are rising)."
So when your movement has more awareness than members, where do you go from there?
What's Next?
Predicting the next wave of a totally organic, dispersed and international movement is not a fine science, but some of the clues I see appear in the collaborations PAD has been forming, and what people come to us for help with.
I think part of the reason the IDEA of tiny houses has become so popular is because they've articulated a big problem: conventional housing doesn't reflect or support the needs of so many people today.  More people live alone or as couples than ever, but most houses are sized for families of four to six – or more. Some don't want the added cost, and some just plain can't afford it.
I live in Portland, Oregon, a remarkably un-urban city of residential neighborhoods filled with single-family homes and small apartment complexes. A number of increasingly popular cities are designed this way (Seattle, the Bay Area…) and some of these cities are growing more quickly than they can handle.
People love Portland and cities like it because they feel like neighborhoods – you can have a garden oasis in your backyard, but still walk a few blocks to a restaurant. But people love it so much that there isn't enough housing for everyone who's moving here, so housing prices are going way, way up. Our conventional housing market is adding new homes, condos and apartments as fast as possible, but many people aren't going to be willing or able to pay the price that this housing will cost.
Tiny houses on wheels are still one of the only ways that one person and a dream can solve their own personal housing crisis. It's not easy or instant, but it's pretty rare today for people to feel such a sense of personal empowerment – that they can truly take their life into their own two hands, and change it with a practical project. It's so uniquely beneficial that people are clamoring for tiny homes on wheels even though they, well, aren't technically legal. But what's a little thing like legality when your home life, financial life and, by extension, whole life is at stake?
We Need Housing "Alternatives"
Something that confounds me as PAD's marketing guy is that PAD essentially has two business names. We are PAD Tiny Houses – educator to DIY tiny house builders. We are also Portland Alternative Dwellings, where the PAD acronym comes from, and people approach us for help with housing "alternatives" of all kinds. When people come to PAD looking for a "tiny house," they sometimes mean an accessory home like an ADU. Sometimes they're trying to figure out where they can park a trailer. Sometimes they want to show us their awesome converted bus. And sometimes they want to tell us that they're still trying to figure out a way to live with their best friends, just not, like, WITH their best friends, you know?
People are right to look for housing "alternatives" – traditional housing is outdated, and conventional home ownership isn't feasible or desirable for a growing population in America. And while tiny houses on wheels have helped people put their finger on that problem and name it, they're not going to solve that problem for everyone. People are looking for a lot of different solutions. One of the things we want to keep doing is connecting people with information about housing alternatives so they can find something that works for them – whether it's on wheels or not. Because naming minutiae aside, we are "PAD" – our business and our passion is home. The homes we invent, the homes we build, and the homes we discover right under our noses.
As we look to the future, we are beyond excited to put our heads together with everyone at the Build Small Live Large Summit next weekend to understand what new ideas people are coming up with, help them grow, and share the good word. If we can share and champion a greater variety of housing ideas – through the internet, person-to-person, and on TV alike – the conversation will get richer, and people will see that with some creativity and elbow grease, they can find or build a home that works for them. I know I speak for Joan and Dee that we're all so honored to be a part of this local, national and international conversation: What IS home? We're not done figuring it out. And we look forward to figuring it out together.